6 Jan 2022
This April we're playing at Sea You Music Showcase, tickets are already available online.
7 Nov 2021
Live session we recorded for Audiotrope was released yesterday.
Thank you Alice, Kamila, and Coastal Currents for making this happen, and special thanks to our hosts at Zantyr 54! Cheers!
20 Aug 2021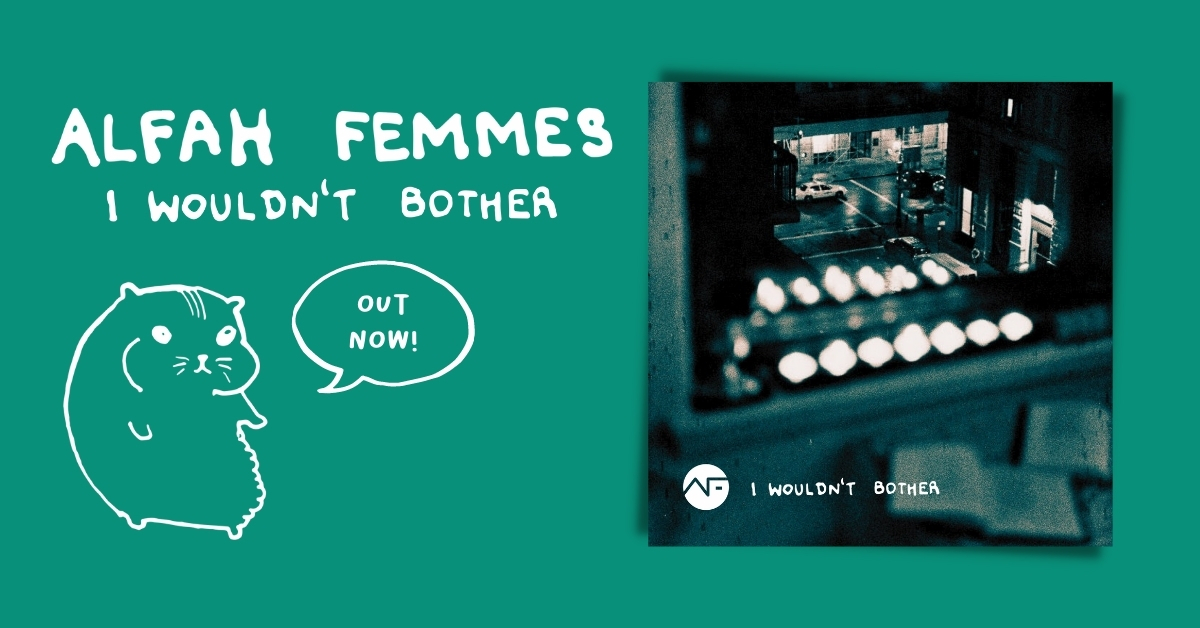 As of today, I Wouldn't Bother EP is officially available on all streaming platforms, CD and cassette. Grab a physical copy from our store or bandcamp page.
6 Aug 2021
We're excited to share our dumb single!
The fox on the cover was created by Nil Smużny – thank you.
The song is out now on all streaming platforms and it's accompanied by a music video dedicated to all Monty Python and Power-Point fans.
Z radością prezentujemy nasz nowy singiel – Dumb.
Lis na okładce jest dziełem Nila Smużnego – dziękujemy!
Piosenka jest już dostępna na wszystkich platformach streamingowych i towarzyszy jej teledysk, który dedykujemy wszystkim fanom Power-Pointa i Monty Pythona.
26 May 2021
Reporting on duty at Karambol w Kosmosie 2021!
20 Apr 2021
After a year-long concert hiatus, we're thrilled to announce our performance at Soundrive Festival 2021!
24 Oct 2020
As of today, NO NEED TO DIE is officially available on all streaming platforms.
Check out the music section above for lyric videos to all the new songs.
The exciting LP cover art is the work of Kamila Cwiklinska, Aleksandra Józefów and Joanna Kurowska, supervised by Monika Górka (Nietota Foundation). Cheers!
Od dzisiaj album NO NEED TO DIE jest dostępny na wszystkich platformach streamingowych.
Sprawdźcie też sekcję music powyżej – są tam już filmy z tekstami piosenek do wszystkich nowych utworów.
Ekscytująca okładka longplaya to praca Kamili Cwiklinskiej, Aleksandry Józefów i Joanny Kurowskiej, koordynowana przez Monikę Górkę (Nietota Foundation). Uściski!
25 Sep 2020
Endless thanks to all those who committed themselves to building a home for our songs. Also, many thanks to everyone who came to celebrate the finished project. Records are being pressed and covers printed while No Need to Die LP is available for pre-order on bandcamp.
Nieskończone podziękowania dla wszystkich, którzy zaangażowali się w budowę domu dla naszych piosenek. Bardzo dziękujemy też wszystkim, którzy przyszli świętować Ukończony projekt. Płyty się tłoczą, okładki drukują, a No Need to Die LP jest już dostępne w przedsprzedaży na bandcampie.
21 Aug 2020
The title track from our upcoming album is out now!
Lyric video and artwork:
Kamila Cwiklinska, Aleksandra Józefów and Joanna Kurowska.
19 Jun 2020
We're proud to announce that our new single is out!
Z dumą ogłaszamy, że nasz najnowszy singiel już jest!
2 Jun 2020
#BlackOutTuesday
As white people born into privilege we are not able to grasp the hardship that people of color have faced throughout history.
In the face of what's happening in the United States today, it is wrong not to speak out, or to spread symmetristic shit.
We urge you to stand in solidarity with and donate to the causes that will work to put an end to injustice. Please visit these pages to find out what you can do to make a change:
#TheShowMustBePaused     #BlackLivesMatter
TT: @pausetheshow     IG: @theshowmustbepaused
Jako uprzywilejowani biali, nie jesteśmy i nie będziemy w stanie pojąć tego, z czym codziennie musi walczyć osoba innego koloru skóry.
W obliczu tego, co dzieje się obecnie w Stanach Zjednoczonych, tym bardziej frajerskim, cynicznym i/lub skurwysyńskim jawi się centrowe, obłe i symetryczne pierdolenie. 
Wyraźmy jasny i głośny sprzeciw, wspierajmy organizacje, które próbują zmienić pojebany system. Odwiedź wymienione wyżej strony, aby dowiedzieć się jak możesz pomóc.
21 May 2020
It's here!
No Drama, No Disco is our new single/music video. You can watch/listen to it on YouTube
or from streaming platform of your choice.
Either way, check it out!
Cover and video art by: Trojak der Weltmeister.
9 Apr 2020
Happy birthday to our drummer, Tomek Koper!
We can't think of a better gift than the gift of song, so we've decided to release our second single today! Cheers!
Wszystkiego najlepszego z okazji urodzin dla naszego bębniarza, Tomka Kopra!
Nie znamy lepszego daru, niż dar piosenki, dlatego postanowiliśmy wydać nasz drugi singiel właśnie dziś!
Sto lat!
23 Mar 2020
Due to the pandemic we've decided to take a little weight off the shoulders of postal workers and people providing delivery services. They're already running at full speed, bringing us all the necessities we need daily. So, from now on, in our online store you will no longer be able to order merch via inPost locker or courier service.
Instead, a promo "delivery after lockdown" option will be available – free shipping in Poland and flat rate reduced by 65% for the rest of the world. Our beanies will get to you when it all blows away.
Keep safe!
Z powodu pandemii zdecydowaliśmy się zdjąć odrobinę ciężaru z barków pracowników usług dostawczych, listonoszy i kurierów, którzy działając na zwiększonych obrotach doręczają nam wszystkim rzeczy naprawdę potrzebne. Dlatego od dziś, w naszym sklepie internetowym nie zamówicie już gadżetów przez paczkomat czy przesyłkę kurierską.
Dostępna jest za to promocyjna opcja dostawy po kwarantannie – darmowa na terenie Polski, obniżona o 65% do reszty świata. Nasze czapeczki dotrą do Was, kiedy będzie już po wszystkim.
Dbajcie o siebie!
10 Mar 2020
We're psyched to announce our collaboration with fashion designer Mona Rena Górska.
Together we're creating a new merch line that will be available at gigs only. First batch should be ready for this month's show at Drizzly Grizzly.
EDIT: the show has been postponed until Fall due to coronavirus. We're still excited about the merch though!
Jesteśmy super podekscytowani mogąc ogłosić naszą współpracę z projektantką Moną Reną Górską.
Razem tworzymy nową linię koszulek, które będą dostępne wyłącznie na koncertach. Pierwsza partia powinna być gotowa już w tym miesiącu, na gig w Drizzly Grizzly.
EDIT: koncert został przeniesiony na jesień przez koronowirusa. Mimo to nadal jesteśmy podekscytowani!
18 Jan 2020
Quiet please! Recording in progress.
5 Jan 2020
We're proud to announce that the first single from our upcoming LP is out today! Check out the artwork – it's a photo of a piece by our dear friend Marta Rudnicka, an upcycled lamp made of plastic animals covered in paint. We felt it resonated well with the song lyrics (It also corresponds with our future album cover which will be a different piece of art made with trash).
The lamp is for sale and can be bought here: artma.space
Z dumą ogłaszamy, że dziś premiera pierwszego singla promującego naszą płytę LP! Na okładce zamieściliśmy zdjęcie fragmentu pracy naszej przyjaciółki Marty Rudnickiej. Jest to lampa z recyklingu, wykonana z plastikowych zwierzątek oblanych farbą. Uznaliśmy, że dobrze współbrzmi z tekstem piosenki (jednocześnie nawiązuje też do okładki naszego nadchodzącego albumu, na której również znajdzie się element sztuki ze śmieci). Lampa jest na sprzedaż i można ją kupić tu: artma.space